Thikedaar.com: The finest AI-powered construction company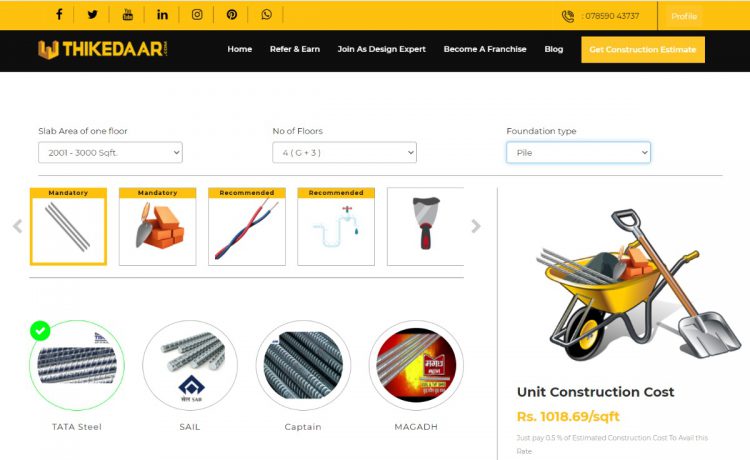 The COVID-19 pandemic altered the way the construction sector does business this year, from project scheduling and closure to recruiting personnel to interact with clients. The pandemic's aftermath will have an impact on several business trends. People desired to construct a site without having to venture outside in the sweltering heat of the day. It has gotten considerably more difficult now that the pandemic has arrived. It looks like the reveries are about to come true. Thikedaar.com is a digital platform that enables users to pick and finalize construction needs from the comfort of their own homes, at any time and from any location.
Thikedaar.com, launched amid the epidemic in 2020, is a well-designed enterprise. It chooses to capitalize on the industry's potential by combining it with technology. It also improves its clarity and efficacy by providing credibility. They have also established a plan to address all unanswered questions about the developmental domain.
Sujeet Kumar Mishra and Jenie Singh are the patrons of this low-cost start-up based in Delhi. Both of them are motivated to restructure the building business and overcome the technological and real estate divides. They hope to provide transparency and efficiency to the infrastructure business by creating a seamless tech-based channel to ensure the smooth movement of building supplies. By digitizing pre-construction procedures such as material selection, payment channels, and site updates, the firm seeks to make building a house as simple as possible for its customers.
The Founders believe in providing their clients with a solution. Thikedaar.com introduces the notion of 'Instant Free Quote,' which simplifies the entire procedure." Before work begins, clients receive an estimated construction cost to review, allowing them to make an educated decision about choosing Thikedaar.com as their construction partner. They want to build a strong customer connection with this capacity by giving a simple and accessible solution to any consumer questions.
Thikedaar.com is well-known for modifying designs and working on projects to suit the client's eye. They have accomplished this by requiring the quality of the procured goods. They collaborate with the most talented designers and architects in the country. They also assign a task force of supervisors capable of bringing any concept from paper to reality. They have completed approximately 13000 sqft of construction to date and have done it with exceptional quality.
Thikedaar.com was recognized by Griha Certification for digitally upgrading its processes. The Government of India has recognized it as a Start-Up, and it has become the first construction business with an interactive platform to reach here.
Bimlendra Jha, the former CEO of Tata Steel UK and former MD of Ambuja Cement, praised the company, saying, "Thikedaar.com is on a mission to make India beautiful via architecture, providing consumers peace of mind and guarantee on cost, quality, and time."
Because the digital environment is changing so quickly, it is impossible to stay "on-trend" all of the time. Being discovered where consumers want to find you is critical for a construction company. The firm achieves this while also being productive and efficient in its job. Thikedaar.com works diligently to achieve these objectives and offers consumers real-time information to keep them informed of the development of their projects. With such dependable methods, Thikedaar.com's fantastic strategies will propel them to new heights.