HOME CONSTRUCTION
Only four walls don't make a home. It includes a person's emotions, money, time, and effort. It needs proper planning, design, construction knowledge, skilled labor. Every person wants to build their own dream house in life with love and affection. But nowadays it's too hard to build either a small or a big house for their lifetime and their grandchildren. In the generation and era of peoples finding their profit with any work.
In the construction work of India nowadays it is difficult to construct our own houses. There are lots of hurdles that hinder the process of construction. Because of this, there is a lack of transparency in the way of home construction. However, building a house is a Herculean task in itself. It requires not just plot selection but also choosing the right design, long-lasting material, and proper inspection during construction.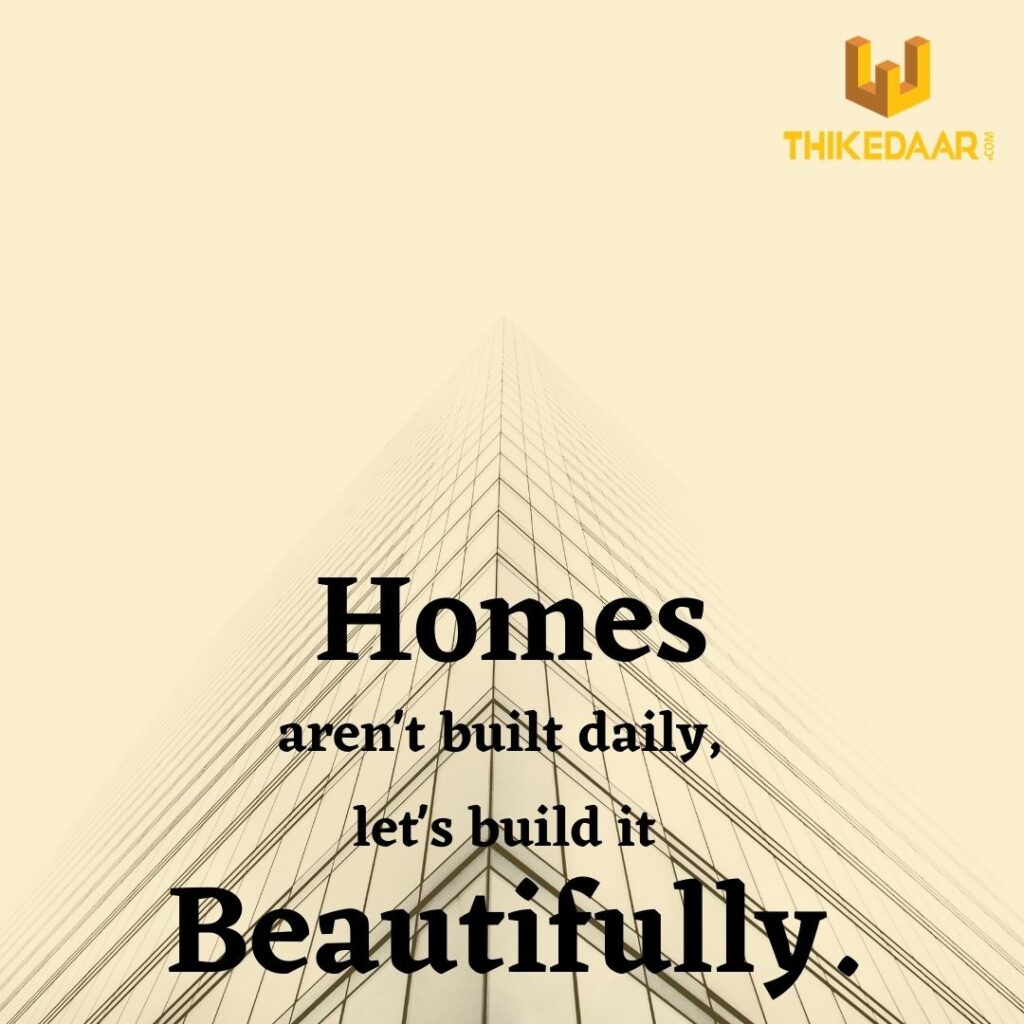 Further, there exists a lack of transparency in terms of pricing of construction, material cost, and non-consensual changes by builders. Also, consumers get cheated by the builder who delivers sub-optimal houses to them which degrades in a few years. With hasty lifestyle and jobs, people find it difficult to give sufficient time to these aspects. This delays the home construction of their dream house and leads to an escalation in cost. To converse the whole hectic and improper way of construction, thikedaar.com came with a digitized revolution of bringing the whole complex process of construction on an online platform. Through the start-up Thikedaar.com, the aim is to digitize and bring online the entire process of pre-construction, from material selection, payment gateways as well as periodic updates. 'Instant Free Quote' is introduced whereby choosing the desired building materials, customers will be able to get an estimate of their building's construction cost before making a final decision of opting Thikedaar.com as their builder or construction partner. Thikedaar.com online portal allows customers to make houses in a very easy and convenient way with just a few clicks.
The process is too simple and easy that any consumer willing to construct the house has to simply visit our website Thikedaar.com, and then click on the " Get Construction Estimate " icon which will directly take them to a page where they have to fill in their necessary details related to there construction plot as in what is the slab area, how many floors they want, what will be the foundation type. After all, this here comes the time to select the materials they want to use in the home construction, with each material there are different brands are provided as per the convenience they can prefer there choose and the selection of material makes the difference of increase and decrease of the amount as per square feet, materials they can choose for are cement, rod, brick, wiring, plumbing, putty, paint, window, door after that it results with a cost of per sq ft and that is only the amount that we charge for the whole construction process from start to end.
A ready-to-move home is constructed. There is also an option to modify with which customers can go back to the materials page and modify it to suit their budget. This customer-friendly process conveys that it's only the customer who should decide the materials as per their budget. We are no one to decide package or budget for them as everyone has their limitations, and we understand that. After the customer is contended with construction cost and proceeds to pay the allowing amount as in they are booking Thikedaar.com as their construction paternal. They will be followed up to make a clear agreement in which each and everything will be mentioned, from what materials to be used, the time duration of commencement of construction, all the safety measures to be followed everything is mentioned. For that, a small token of the amount from the estimated cost is taken, and a confirmation email is sent.
The team then goes about managing the construction of the house from raw materials to finished products. Additionally, at Thikedaar.com we offer free home designing services to the customers from the best and qualified designers so that they don't miss out on any aspect to build a house of their choice. Thikedaar.com provides an end-to-end service, from design to final construction offering a complete package for Construction Projects. The online system of an end–to–end management & ownership of the project by Thikedaar.com takes off the burden from consumers while keeping them involved by looping them in via a live progress tracker.
Deficit industry which in turn causes many consequences in society. Hence, to make our society free from such consequences. Architect Sujeet Kumar Mishra , an architecture graduate of BIT Mesra, and Jenie Singh, graduation in architecture and post-graduation in business administration from NIT Durgapur, started an online platform Thikedaar.com, to bring transparency and efficiency in the construction sector which currently faces a crisis of trust deficit and opacity. Thikedaar.com offers customers to build their dream house based on the preference for material and design.